Reduce your spending on acrobat pdf by 70% - kofax power pdf

PDF Software Built for Business Users
How does Power PDF compare to Adobe Acrobat?
Your business faces many challenges - staffing, overhead expenses, marketing, and much more. It's a difficult task to balance these needs, and you deserve the best tools to develop efficient solutions.
Kofax Power PDF is the top PDF alternative when compared to Adobe and other software companies. With Power PDF you can save money, while improving each of the essential functions on which your business relies.
2 million customers trust Power PDF—See why the new Power PDF 4 is right for you
Power PDF 4 provides powerful PDF management that's built for business users. Learning is fast since it works like Office desktop products. Since Power PDF meets simple to complex needs and provides strong security, IT teams can standardize on a single tool. The new release takes a huge leap forward in search and redaction accuracy through Kofax's award winning OCR technology. Integration has expanded, including Microsoft OneDrive and the time-saving Kofax SignDoc. And there is greater adherence to accessibility standards.
Nuance Power PDF Introduction
Processing video...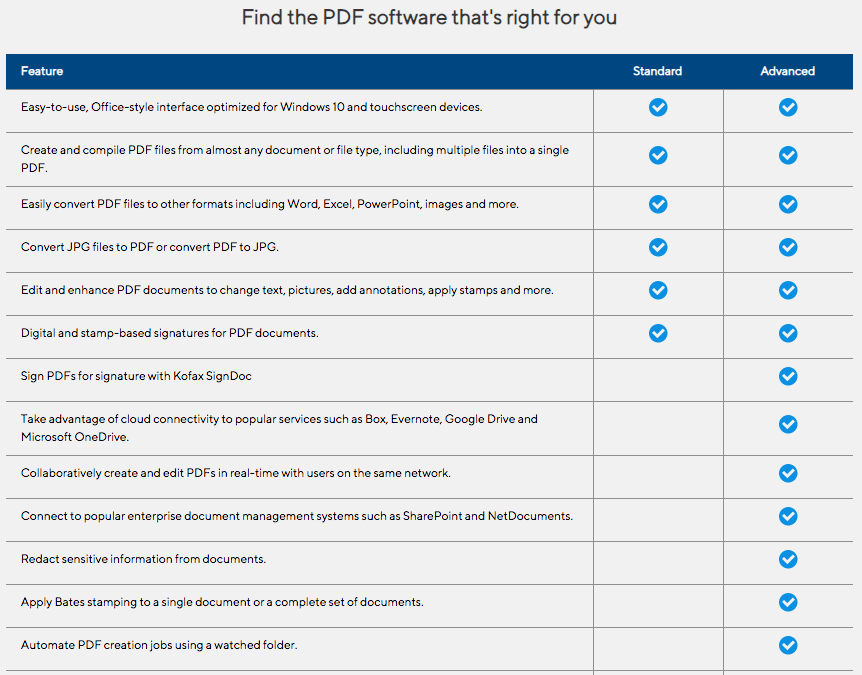 Power PDF Simplifies Contracts
In many legal sectors, from property law to business law, producing contracts or other legal forms and gathering signatures are critical tasks. The outcome of a court date might depend on completing forms at the right time. Law offices encounter many challenges when producing contracts, including:
Time-consuming workflows that slow down document creation

Redundant data entry work due to a need for error-correction

Delays in receiving signatures due to sluggish and outdated methods of delivery
The result of these problems is delays that can stretch for days or weeks as paperwork comes together or sits, unsigned, on a desk.
Power PDF simplifies the entire process dramatically. With features that enable legal teams to create and edit PDF templates of custom boilerplate, filling in relevant information is quick and simple. Power PDF 4.0 does more, too:
Securely transmit the document to a client via a cloud storage system such as Dropbox Business

Build in support for electronic signatures through integration with Kofax SignDoc (sold separately)

Access anti-tampering certificate technology for certain document authenticity
With quick PDF creation and conversion capabilities and electronic signature support, Power PDF is an essential tool in all areas of contract law.