eCopy

document capture

and management software, Breakthrough office-scanning performance.

Effective digital collaboration begins with editable digital documents. Unfortunately paper documents are often part of the business process and dealing with these documents is a major inconvenience.
You have access to powerful multi-function printers (MFPs) that can scan paper documents reliably at high speed and turn them into PDF documents you can share But chances are good this functionality is not as convenient or productive as you thought it would be. Who enjoys standing at the office MFP waiting for it to finish scanning, having to slowly type out email address, or not knowing if it's scanned correctly? And that's just the beginning of your frustration. You need a dramatic boost in speed and productivity, while achieving information security and document integrity.

Work faster. Work-while-scanning* means less waiting around.
For breakthrough office-scanning performance you need software that dramatically improves the experience and productivity at the MFP so you can be done quickly and transform PDF files into much more useful documents. And while you want to accelerate the small, on-demand scanning jobs you absolutely want to improve the big jobs too. It doesn't matter if you are scanning to email, scanning to the Cloud or scanning to shared document repositories like network folders or Microsoft SharePoint. Now you can work faster than your MFP can scan your long documents. That's right —while you are scanning you can continue working to set your desired options, where you want your documents to go, what you want to name them, and add critical document information among other things. This means you can finish and leave the MFP if you want the moment it stops scanning. Now, with eCopy ShareScan you can get the documents to the right people or places faster than you can imagine, so you can focus on what matters most—the real work at hand.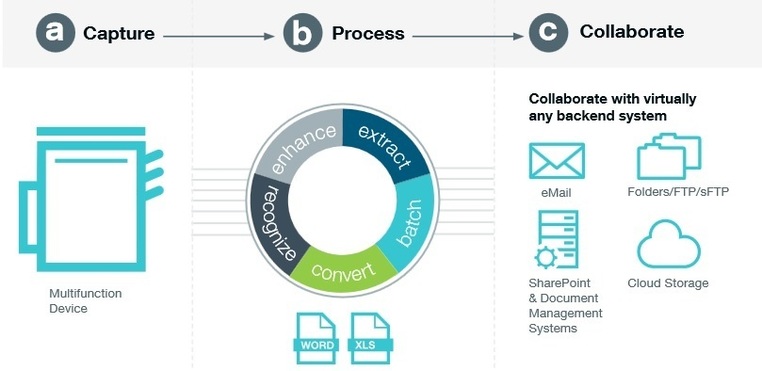 Advantage:
Work faster. Work-while-scanning* means less waiting around.
Peace of mind. Rest assured it's done right— the first time, every time.

Security and ease-of-use. Identification allows a personalized experience.
Digital documents you can edit. Do more with documents at your PC desktop.